About BIND
Launched in 2014, the Bordeaux Initiative for Neurodegenerative Disorders (ND) « BIND » is led by the University of Bordeaux, 3rd French multidisciplinary and IdEx Bordeaux, associated with the University Hospital of Bordeaux, 3rd regional French CHU in clinical research
It aims at bounding multiple disciplines and ND, along a continuum from preclinical to clinical research to improve care provision. This patient-centred, centripetal and transdisciplinary initiative for ND will rely on a core of recognized excellence and will promote links with other disciplines.
The core is constituted by leading teams belonging to: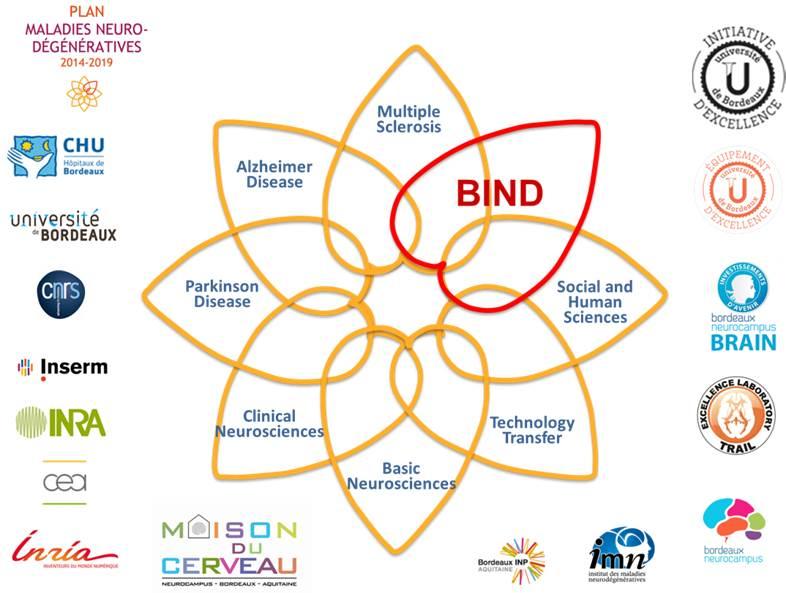 The Bordeaux Neurocampus and cluster of excellence LabEx BRAIN;
The Bordeaux Population Health Research Center (BPH) and Health-Society platform (Cassiopée), cohorts and expertise in clinical research methodology;
The bio-imaging centre-IBIO and clusters of excellence LabEx TRAIL;
Patient care and clinical research infrastructures of the CHU, particularly the emblematic clinical platform of the IMN (IMNc), the MS clinic and the Centre for Clinical Investigation Pharmacology and Clinical Epidemiology.

These teams, with a strong research background in ND and existing active trans-disciplinary local collaborations, interact, based upon clusters of excellence, with teams issued from "Science and Technologies", "Human and Social Science", Economy and Law of BU.

BIND  promotes transdisciplinary education through the Bordeaux School of Neuroscience (NENS network), the School of Public Health and the PhD School "SP2"(Societies Politic Public Health).

BIND also takes advantage of a regional cluster in health information systems and technology to promote efficient transfer and valorisation.
---
---